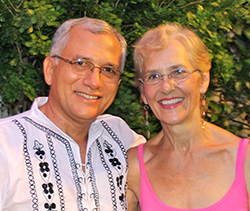 Global Ministries Missionaries
Nan McCurdy and Miguel Mairena, Mission Advocates for the Western Jurisdiction
Nan McCurdy explains, "You can call on us to preach, teach and share about missionaries and Global Ministries mission programs like UMCOR, Global Health Initiatives, National Plan for Hispanic/Latino Ministries, new church initiatives and Global Mission Fellows - a leadership development program and two-year mission service opportunity that allows young adults to take part in mission and social justice ministries in international or domestic contexts. It is an amazing opportunity for young adults to explore their calling as missionaries."
Nan and Miguel try to share God's love so that everyone they meet hears the message: You are God's Beloved. They attempt to follow in Christ's example contributing to the building of God's "Kin-dom" around us and in us. Serving on Conference task forces like Disaster Response, Disability and Immigration, they bring the missionary perspective. In 2015 they taught the Latin America Study for United Methodist Women at five different Mission U events.
As missionaries in Nicaragua for thirty years, their work involved developing programs with youth and women for: Education, women's health, economic empowerment, prevention of violence, promotion of gender equity and other human rights, and a youth-run community radio station. They worked with dozens of Volunteer in Mission teams, and educated about topics like US-Nicaragua relations, the Eternal (External) Debt and Free vs Fair Trade. They are currently speaking on the root causes of migration from Central America.
Nan and first husband, missionary Philip Mitchell, worked in pastoral accompaniment in Nicaragua with families that lost loved ones in the US-war in the 1980s. Phil died suddenly after a simple operation in 1991; their children Daniel and Nora were ages one and three. Three years later Nan and Miguel fell in love working with Volunteer in Mission teams through an ecumenical center where they worked; they married in 1995. Nan served as Peace with Justice Educator for the Baltimore-Washington Conference (1996-1997). On return to Nicaragua in 1997 they supported the founding of the Women and Community Association in San Francisco Libre and San Juan de Limay. Nan and Miguel worked with this organization until August 2014.
Miguel, the eighth of eleven children was raised on one of the 36 Solentiname Islands in Nicaragua's great lake. He was not able to begin primary school until age twenty, but then studied all his life -- becoming a lawyer and receiving a Master in Criminal Law at age fifty-six. He also studied at Wesley Seminary. Before his assignment with Women and Community, his work in Nicaragua included development and theology promotion with churches and ecumenical agencies. He loves to encourage people to go back to school at any age!
Quote from GBGM: "Mission Advocates are active missionaries assigned to help annual conferences, districts, and local churches in the United States to understand and participate in global mission."
Contact them directly: E-mail: nanmigl@yahoo.com, cell: Nan 949-397-4729 or Miguel 949-397-4733