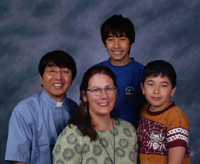 Global Missions - Japan <newsletter>
Rev. Toshimasa & Rev. Claudia Genung Yamamoto
Reverend Claudia Genung Yamamoto is a missionary with the Board of Global Ministries of The United Methodist Church assigned to the National Christian Council (NCCJ) in Tokyo, Japan.
Claudia's responsibilities include working at the NCCJ as editor of a newsletter known as the "Japan Christian Activity News." The quarterly, sometimes triennial/biannual newsletter covers various Christian related social issues in Japan, such as human rights for foreign migrant workers, peace issues, Buraku concerns, acculturation of Christianity, the homeless, women, and inter-religious dialogue. As part of her work at the NCCJ, Rev. Yamamoto is also the international church liaison and is active with the NCCJ related Christian Peace Network.
Rev. Yamamoto is president of the Tokyo Ecumenical and Interfaith Council, a part-time pastor at West Tokyo Union Church, involved with foreign migrant workers in the Tokyo area, and a board member of Second Harvest Japan. She is active in an ecumenical feminist theology center and discussion group, is chairperson of the Women's Conference for 2006 and facilitates a bimonthly Bible study in her home. Claudia stays involved by organizing support groups for parents of children with special needs and proofreads newsletters for a Tokyo-based Asian women's shelter.
A native of Redwood City, California, Claudia was an associate minister at Kailua United Methodist Church in Hawaii from 1988-1992. She has a Bachelor of Arts in International Relations from the University of the Pacific and a M. Div. from the Pacific School of Religion in Berkeley, California. While in seminary, Claudia worked at the Pacific Asian Center for Theology and Strategies, and as a youth director at Wesley United Methodist Church in San Jose, California. Rev. Yamamoto is currently studying for her D. Min.
Claudia and husband Toshi, a former GBGM missionary, are the parents of two sons, Kai Gabriel and Koh Michael.
*text from The Advance — a General Board of Global Ministries Website